Are you looking for a quick and delicious breakfast option that will kickstart your day? Look no further than this amazing Air Fryer Egg Frittata recipe! In this blog post, I, Chef Samantha George, will guide you through the process of creating a flavorful and nutritious frittata using the convenience of an air fryer. Let's dive in!
Why I Love This Air Fryer Breakfast Frittata
Before we jump into the details, let me share why I absolutely love making an egg frittata in the air fryer. The benefits are simply outstanding and will make your healthy mornings a breeze! Let's explore some of these benefits:
Quick and Easy to Make
Preparing an egg frittata in the air fryer is a time-saving marvel. The rapid hot air circulation ensures that your frittata cooks evenly and in a fraction of the time compared to traditional methods. Say goodbye to long waits and hello to a delicious breakfast in no time! Especially when you make mini frittatas in these tin foil cupcake wrappers I used in the recipe below.
Evenly Cooked and Fluffy Texture
One of the most delightful features of the air fryer is its ability to deliver an evenly cooked frittata with a light and fluffy texture. The hot circulating air ensures that every bite is perfectly cooked, from the edges to the centre. No more worrying about undercooked or overcooked sections!
Easy Cleanup
Cleaning up after breakfast shouldn't be a hassle, and with the air fryer, it isn't! Most air fryers have non-stick cooking surfaces that make cleaning a breeze. Simply wipe away any residue, and you're ready to conquer the day without spending extra time at the sink. You can enjoy, no having to wash up sticky egg residue from a casserole dish as these frittatas are baked in disposable tin foil cupcake wrappers.
Versatility and Convenience
Air fryers are known for their versatility; using them to cook an egg frittata is no exception. With adjustable temperature settings, you can easily customize the cooking temperature to achieve the perfect frittata every time. Just sort of set it and forget it while you finish up other tasks in your busy schedule. Plus, the compact size of the air fryer makes it a convenient option for small kitchens or when cooking for fewer people.
Watch Me Demonstrate the Recipe
Key Considerations When Making Your Frittata in the Air Fryer
Now that we've covered the benefits, let's discuss some key considerations to keep in mind when making your frittata in the air fryer.
How Does an Air Fryer Cook an Egg Frittata Differently Than a Traditional Oven or Stovetop?
The air fryer's hot circulating air cooks the frittata from all sides, resulting in even cooking and a fluffy texture. Unlike traditional methods, you won't need to worry about flipping the frittata or adjusting the heat source. The air fryer takes care of everything!
How Long Does It Take to Cook an Air Fryer Egg Frittata?
Cooking times may vary depending on the size and thickness of your frittata, but as a general guideline, an air fryer egg frittata typically takes around 12-15 minutes if it's done in a deep casserole dish or baking pan. However, these miniature side frittatas cooked up way faster-within 4 minutes. Overall, whether you're cooking in a pan or muffin cups, It's important to keep a side eye on it to avoid overcooking. frittatas are best enjoyed with a just set, tender, delicate and airy texture, rather than dry, stiff, and rubbery.
Drawbacks of Making an Air Fryer Egg Frittata
While the air fryer offers numerous benefits, it's essential to be aware of potential drawbacks. One drawback is the limited size of the air fryer basket, which may restrict the amount of frittata you can cook at once. However, this can easily be overcome by making multiple batches if needed.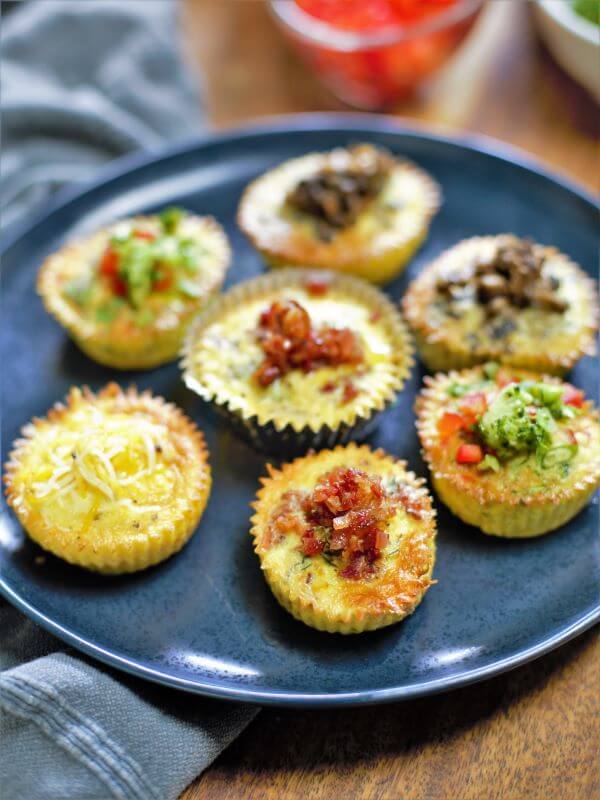 What Are the Essential Tools Needed to Make the Air Fryer Breakfast Frittata?
Before we delve into the recipe, let's make sure you have all the necessary tools, utensils, and equipment to successfully make this delicious breakfast frittata. Here's a list to get you started:
Air Fryer Egg Frittata Recipe
Now that we have everything we need, it's time to jump into the star of the show – the Air Fryer Egg Frittata! Follow these simple steps to create a mouthwatering frittata that will impress your taste buds:
The Ultimate Breakfast Solution: Air Fryer Egg Frittata Recipe for Busy Mornings
Course: Recipes
These delicious mini frittatas are made with velvety cheesy egg custard, tender vegetables, and spices, and cooked to perfection in the air fryer for an easy and healthy and satisfying breakfast, brunch, snack or even dinner.
Ingredients
Frittata Custard Base

6 large eggs

1/4 cup milk

1/4 cup grated Parmesan cheese

Grated Cheddar cheese

Tin foil cupcake liners

Optional Mix-ins

Bacon bits

Mushrooms

Cooked ackee

Cooked callaloo

Diced red bell pepper

Other Ingredients

Salt and black pepper, to taste

Cooking spray
Directions
Preheat the air fryer to 350°F (175°C) for 5 minutes.
Whisk the eggs, milk, grated Parmesan cheese, cheddar salt, and black pepper in a mixing bowl.
Spray 6-8 mini aluminum cupcake liner baskets to prevent the frittata from sticking and place them into the air fryer basket.
Add the mix-ins into each cupcake liner about a third of the way for example bacon and cheese in one, broccoli and cheese in another and so on.
Pour the egg mixture into the cupcake liners until almost at the bring, taking care not to let the custard overflow.
Air-fry the mini frittatas at 350°F (175°C) for 5-7 minutes, or until the eggs are set and the top is golden brown.
Once the frittata is cooked, carefully remove the air fryer basket, and let it cool for a few minutes.
Use a tong to pick the frittata out of the basket and onto a serving plate.
Serve immediately with toast, or a salad.
Freeze leftovers in Ziploc bags for up to 2 months for later use. Highly recommend making a bunch of these for your kiddies!
Chef Samantha's Professional Tips Simplified
Now that you've mastered the art of making an air fryer egg frittata, let me share some professional tips to take your frittata game to the next level!
Different Ways to Customize an Air Fryer Egg Frittata
The beauty of a frittata lies in its versatility. You can customize it with a variety of ingredients to suit your taste and preference. Don't be afraid to get creative and experiment with different vegetables, cheeses, and herbs to create your perfect frittata combination.
Four Tips for Making the Perfect Egg Frittata in the Air Fryer
Creating a perfect frittata is an art, and with these four tips, you'll be well on your way to frittata perfection:
Beat the eggs thoroughly to incorporate air and create a fluffy texture.
Preheat your air fryer to ensure even cooking from the start.
Use an oven-safe dish or air fryer baking pan to achieve the desired thickness and texture.
Slightly under-cook your frittata (removing it with the centre somewhat wobbly) to ensure a smooth and velvety texture once it thickens.
Allow the frittata to rest for a few minutes before slicing to ensure it holds its shape.
How to Store and Reheat Leftover Frittatas
If you have any leftovers (which is rare because it's so delicious!), storing and reheating them is a breeze. Simply refrigerate the frittata in an airtight container and enjoy it within 2-3 days. To reheat, place a slice in the air fryer for a few minutes until warmed through. It's as good as fresh! You can also freeze them well for up to a month and have them for a grab-n-go breakfast or snack.
Wrapping Up
Congratulations! You've learned how to create a sensational Air Fryer Egg Frittata to revolutionize your breakfast routine. But don't stop here! Check out these other fantastic recipes you can try and get creative in the kitchen:
If you haven't already, consider investing in an air fryer to elevate your cooking experience. It's a game-changer that will simplify your meals and open up many culinary possibilities.
Thank you for joining me on this culinary adventure. I hope you enjoy making and savouring this delightful Air Fryer Egg Frittata. Remember, cooking should be a joyous experience. Simplify so you can focus on sensational flavours!