Hey there foodies! This delicious dinner recipe is a deliciously flavorful and healthy dish that's perfect for a quick weeknight meal or a weekend dinner party. This succulent salmon dish is coated with a combination of umami flavors of miso with the sweet and tangy maple glaze, and steams down in the air fryer into a tender, flavor bomb! Get ready to elevate your cooking game with my Air Fryer Recipe for Miso & Maple Glazed Salmon!
Why We Love This Recipe For Maple Glazed Salmon
This is one of my family's favorite ways to have salmon. It's a good fish – Salmon can be prepared in almost any way. Maple Glazed Salmon is another easy way of making a salmon dish using basic ingredients that are probably already in your pantry. The maple syrup gives the right sweetness, while grated ginger give subtle notes of warmth, and the miso with fresh garlic is umami and gut-friendly, making this glaze healthily addictive. It is also easily adjustable to a person's preferences. Want something spicier? Add some sriracha. And best of all, it is fully cooked in less than 10 minutes in the air fryer.
What Does it Mean To Glaze Something?
To glaze food means to coat it with a thin layer of sauce or syrup to give it a shiny, glossy finish and enhance its flavour. A glaze is usually made by cooking sugar, honey, syrup, or other sweet ingredients together with spices, herbs, and liquids such as vinegar, wine, or stock. Once the glaze is ready, it can be brushed or poured over the food, then baked, grilled, or broiled to create a caramelized coating on the surface of the dish. Glazing is a popular technique for meats, vegetables, and desserts, and can be used to add sweetness, tang, or complexity to a wide variety of dishes. In this recipe, the glaze is applied at the beginning of the cooking process making your workload much less.
What is Miso paste made of?
Miso paste is a traditional Japanese seasoning that is made from fermented soybeans, rice or barley, and salt. It is a rich source of protein and essential minerals, and it has a unique umami flavour that adds depth to any dish. "Umami" is my favorite foodie word, btw!
Soy Sauce vs Miso Paste
While both soy sauce and miso paste are made from fermented soybeans, miso paste has a thicker consistency and a more complex flavour profile than soy sauce. So yes, the soy-glazed salmon has become popular, but I prefer this because it has much more depth of flavour. Soy sauce and miso paste are both commonly used in Asian cuisine, but they have different flavours and uses.
So…Can I Use Soy Sauce Instead of Miso Paste?
Yes, soy sauce is a popular ingredient in many other salmon recipes, marinades and sauces. Just think sushi baby! You could swap the miso out for soy sauce if you're out of miso, but get yourself some miso aight? It's worth it.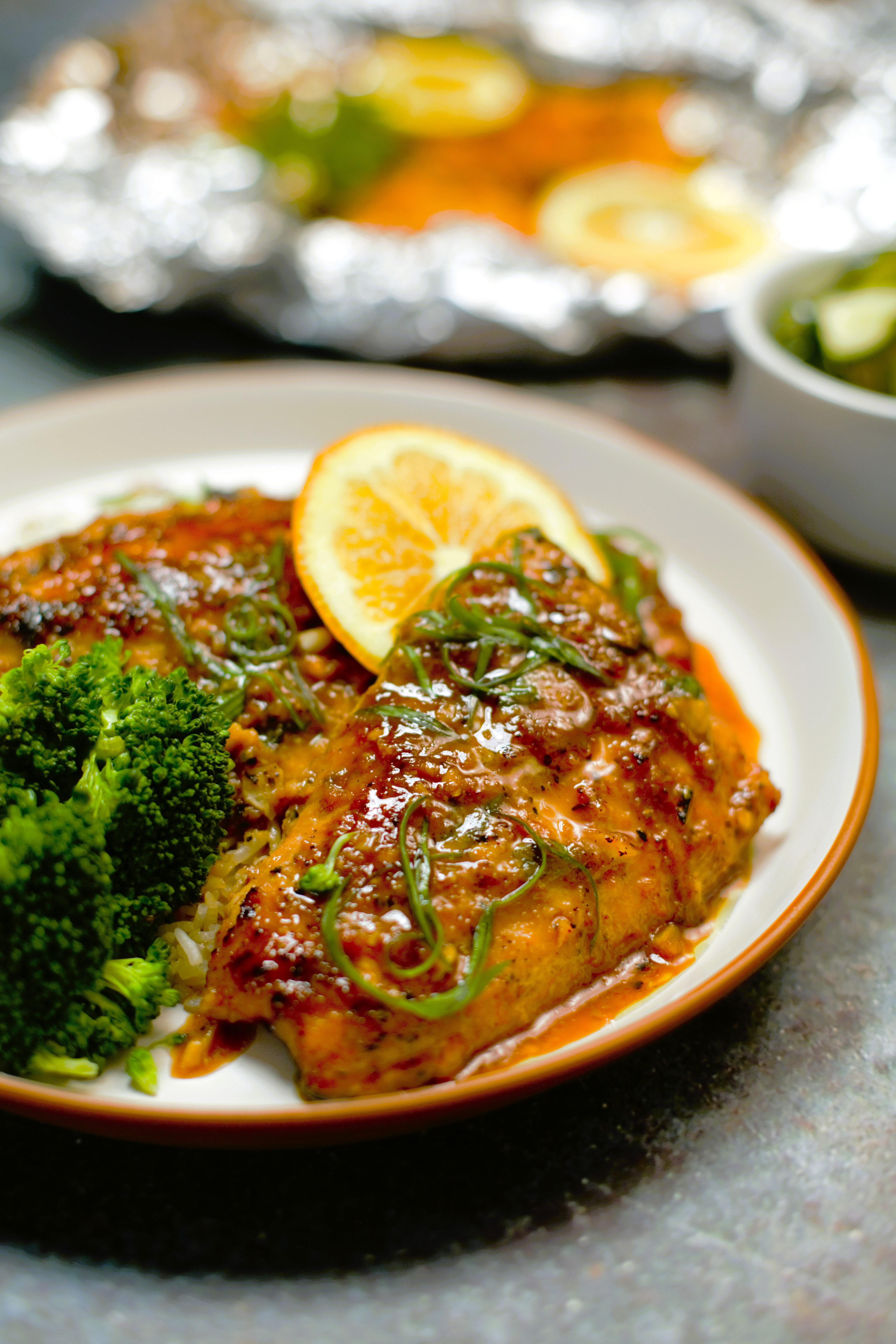 Salmon Soy Sauce Marinade
Marinading your fish fillets with your miso mix will allow the flavours to penetrate deep into your fresh salmon fillet. If possible, marinate them in a large Ziploc bag for up to 2 hours. However, I literally did this in one sitting and threw it into the air fryer because sometimes, ain't nobody got time fo dat!
How long should salmon be marinated?
The salmon should be marinated for 30-30mins, and not longer. The salmon absorbs the flavours of its marinade while retaining its textured properties.
Can you put maple syrup on Salmon?
Yes, maple syrup pairs beautifully with many fish marinades, or when used as a glaze. It adds a sweet and savory flavor to the dish.
Can I use pancake syrup instead of maple syrup?
Yes, you may use pancake syrup for maple-glazed salmon but it would be useful to use maple sugar in this dish if you want that quintessential maple flavor. If we used pancake syrup it would taste slightly different than maple flavor, however, will still have the sweetness factor that we expect in this glaze recipe. Nothing is better than the flavor of real maple syrup though!
Key Advantages of Using an Air Fryer to Cook Maple Glazed Salmon
Yes, you could bake salmon in an oven as well, if you don't have an air fryer. The procedure would be the same but the cooking time will differ. Preheat the oven first and cook for about 15 minutes (but don't quote me on the exact time, use your instant thermometer).
Cooking maple glazed salmon in an air fryer has several advantages over using an oven. Air fryers are faster and more energy-efficient than ovens, and they also cook food more evenly. Plus, air fryers require little to no oil, making them a healthier cooking option.
Oven vs Air Fryer for Cooking Maple Glazed Salmon
While you can certainly cook maple-glazed salmon in the oven, the air fryer has a few advantages. The air fryer circulates hot air around the food, resulting in a crispy exterior and a juicy interior. Additionally, the air fryer is faster and more energy-efficient than the oven. Air fryers also tend to cook food more evenly and require less oil, making them a healthier option.
Important Note On Cooking Time in the Air Fryer
If you watch my video, you can see that my salmon slices were pretty thin. If you have a thicker salmon steak, you may need to cook it for up to ten minutes in the air fryer. Also, in the video demonstration, I cooked the salmon steaks from frozen. If you've marinated yours for two hours, it has thawed out, so expect cooking time to shorten.
There's no shame in checking your salmon after about 6 minutes with an instant-read thermometer!
What is the internal cooking temperature of maple-glazed salmon steak?
The cooking time for maple-glazed salmon in the air fryer will depend on the thickness of the salmon. As a general rule, cook the salmon for 10 minutes per inch of thickness at 400°F. It is important to check the internal temperature of the salmon using a meat thermometer to ensure it has reached a safe temperature of 130°F. Try not to exceed that because salmon gets really tough and dry when cooked too high for too long. It's way more appetizing and palatable when you have just tender salmon that melts in your mouth with every bite.
Deliciously Decadent Miso and Maple Glazed Salmon, Cooked in the Air Fryer
Course: Latest Recipes
Ingredients
4 salmon fillets (6 oz each)

2 tablespoons red miso paste

2 tablespoons pure maple syrup

1/4 teaspoon black pepper

1 tablespoon rice vinegar

1 teaspoon grated ginger

1 teaspoon minced garlic

Freshly sliced lemon or sour orange

3 tbsp olive oil
Directions
In a small bowl, whisk together miso paste, maple syrup, grated ginger, and minced garlic until well combined.
Preheat your air fryer to 400°F.
Pat the salmon fillets dry with a paper towel.
Place salmon in a medium bowl and pour on the miso maple marinade and massage all over to distribute evenly. The top with freshly ground black pepper.
Transfer the marinated salmon to a large sheet of foil paper and fold it to fully wrap the salmon.
Air fry the salmon fillets for 8-10 minutes, or until they are cooked to your desired level of doneness. (You can cook the salmon until the internal temperature reaches 125-130 degrees to give you a most tender and not dry salmon)
Serve the salmon hot, garnished with sliced green onions or sesame seeds, if desired and squeeze freshly sliced lemons or sour oranges for a flavour that brings them all together.
Enjoy your delicious miso maple glazed air fryer salmon with vegetable rice, mashed potatoes or steamed broccoli!
Other Ways to Enhance the Flavour of Your Miso & Maple Glazed Salmon
So if you watch my video, you will see that I torched salmon with my handy blow torch. A must-have kitchen essential. However, you can do half the time in an air fryer with the foil sealed, and half the time with the foil opened so that the heat will caramelize the miso marinade.
If you're looking for a delicious and easy salmon recipe, give this Air Fryer Miso & Maple Glazed Salmon recipe a try. It's a great way to elevate your cooking game with minimal effort. I'll have this recipe in the description below and on the screen. Click the link and get a printable recipe. If you want to see my personal recommendations for kitchen essentials that will help simplify your cooking, click here.
Additional Healthy Salmon Recipes To Try
You can join me for recipe announcements by signing up for my newsletter – the link is below in the footer. Please review the recipe by leaving a review or comment. I appreciate that! Thank you for your time! Chef Sam
Shop Air Fryers
If you don't already own an air fryer, it's a non-negotiable in my house. I've just got one since 2023 (hubby got it for me as a Christmas present). It is a versatile appliance that can be used to cook a variety of dishes, including maple-glazed salmon. Some popular air fryers include the Ninja Air Fryer, Instant Vortex Plus, and Philips Air Fryer. Window shop for some here at my Amazon store.
So that's it folks – miso and maple glazed salmon is a delicious and nutritious dish that is easy to make in an air fryer. The combination of sweet and savoury flavours is sure to impress your family and guests. So next time you're in the mood for salmon, give this recipe a try and enjoy the amazing taste and health benefits it has to offer.